Spare One- The phone that talks
A phone powered by a single double A battery without a screen…no not a mistake. You have a spare tyre in the car so what is wrong with a spare phone?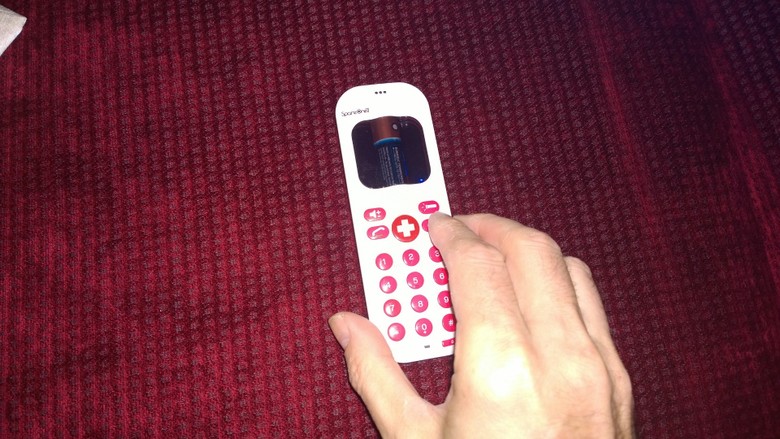 Yes you know when you run out of power as you forgot to charge, you get on the train and the socket doesn't work. You are out of touch and stressed in this connected world. What about in winter when you get stuck in the snow and you run out of power? How do you tell your family you are safe but stuck? What about trudging in the mountains and you drop your smart phone?
Not a problem if you have a Spare One. This is a very simple phone and the best thing to do is set it up first.
First take the back off and plug in your sim card. Remove the battery cover then put the back on to the phone.
Press the end call button and hold. The phone will tell you that Spare One is turning on.
There is no screen so get ready to use your ears and not your eyes!
Given the lack of a screen you need to pre-program a few buttons. So for example dial your most frequent number and then press and hold the one. This will set up a pre-programmed number for you. You can keep going to set up the numbers you want. So no problem if your smartphone is damaged or flat and you can't remember the number as you have pre-programmed.
If you need to use the number then just press and hold the number one and it will dial the number you pre-programmed and it will actually call out the number it is dialling.
You can of course just dial the number you want it you know the number and hit the green key to call.
Be careful though in the Spare One it needs to have a sim that is 2G (GSM). Most sims work fine but a Three Sim did not work as it only works on 3G only and not older technology. It does however support both normal and micro-sims with a micro-sim adaptor cleverlyy included inside the unit.
In terms of battery life that single AA battery will give you 10 hours talk time and can last up to 15 years on stand-by!
Now it is designed to be an emergency phone and it can call the emergency number without a Sim. The plus button in the centre is usually programmed for this and a press of two seconds will get you a call through to the emergency services.
Not just that it has a light too which may be handy for getting attention if you are in trouble and needing to attract the attention of an emergency crew.
It doesn't have a screen which is not usualy a problem but I did have one issue in that my SIM provider wanted to text me a code so I could top up online - something to be careful of but there are usually work arounds.
When you are using the spare one you will notice that the lights flash where a screen would normally be and this is what they all mean:-
1) BATTERY STATUS LED LIGHT:
• Battery level from 100% to 40% [Blinks Green]
• Battery level from 40% to 20% [Blinks Red]
• Change your battery [Blinks Red Fast]
2) ANTENNA/ NETWORK LED LIGHT
• Searching for network [Blinks Blue & Red]
• Connected to network [Blinks Blue]
• Network not found [Blinks Red]
If the Spare One beeps in use it is telling you it is running out of power.
A nice extra is that it comes supplied in a waterproof pack.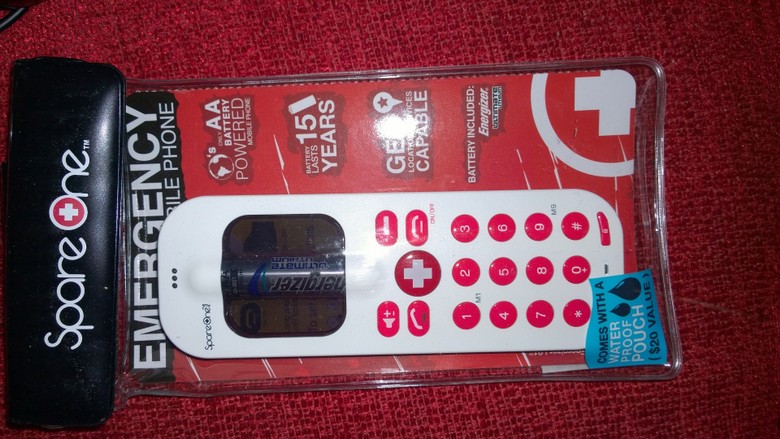 So if you are off to a festival this may just prove a handy way to stay in touch if you can manage on just calls. If it runs out just pop in a new battery and you are sorted out. No need for a charger and a socket that you just can't find out on a muddy campsite!
(An enhanced version of this review with video appears in the Autumn/fall 2014 edition of FascinatingTech)

READERS OFFER
UK readers of FascinatingTech can get a discount off the price of a SpareOne plus free shipping (please note for shipping chose FedEx International Economy at $29.87 which will be discounted at final checkout) To get this offer please use the code FASTECH14 at checkout on
www.spareone.com