WELCOME TO THE SEPTEMBER SUPPLEMENT
We've had a few new items come in for review since the Spring/Summer issue was published and wanted to get our reviews to you as soon as possible.
Haier HTF-610DM7- The Cube Fridge/Freezer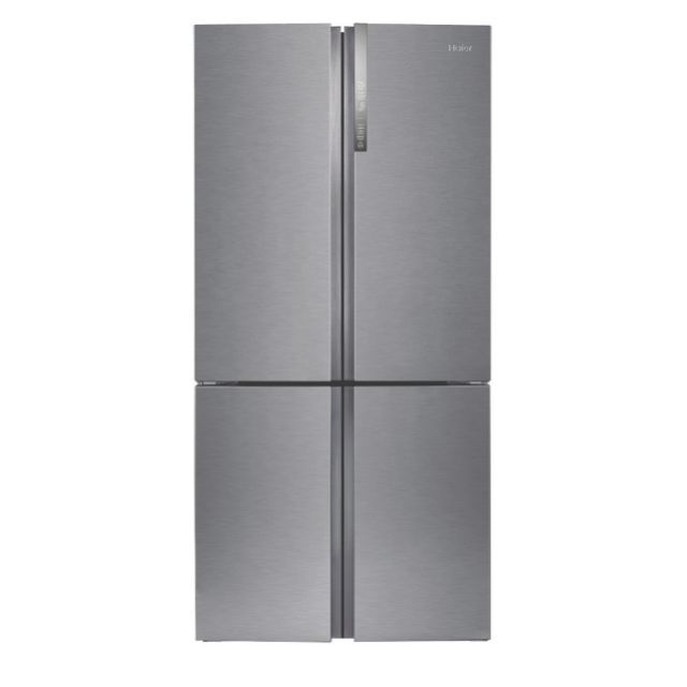 This Fridge freezer is a double fronted 'American-Style' unit that opens in the centre and is split vertically in about a two third/one third split. It apparently has a 610 Litre capacity – hence the 610 in the name. Other than the bottom section being a bit cube-like, we can't quite workout why it is called a Cube but it is, pardon the pun, a cool name.
The top half is a huge fridge and has a very big light at the back which is so much brighter and better than the usual tiny light on the side that is always easy to obscure. They call it Haier Daylight and it is a good name because that is what it reminds me of.
The fridge has two draws at the bottom which are split between one that provides a humid environment to keep fruit and vegetables fresher longer and one for items that need to be kept dry. It was noticeable that the Humidity draw preserved an open bag of salad for longer than would usually be the case. The top of the fridge has a UV light as part of Haier's ABT Antibacterial technology which again is supposed to keep food fresh longer. We certainly haven't had anything stored in this fridge go off and things like the salad lasted around 20% longer than we would have expected. Obviously dependent on food stuffs your mileage may vary.
Each door has three shelves which have a really good depth so things don't fall out. Two of the shelves are tool enough to store bottles; quite a lot of bottles. Unlike some fridges they are tool enough to store a bottle of wine.
We perhaps would like to see a bit more adjustment for these as their positions are all fixed but that is a minor quibble and to be honest there is just so much space on these shelves it is not really an issue.
Then the lower part of the unit is split in two on the left-hand side there is a freezer with two deep drawers and a shallow tray including an ice cube maker. The ice cube maker is a good idea but I found it difficult to twist the release for the ice cubes. The really noticeable difference is how smoothly the drawers slide and a light in a freezer which I have not seen before but it is very helpful. The drawers also don't fall out as they have a really good retainer system.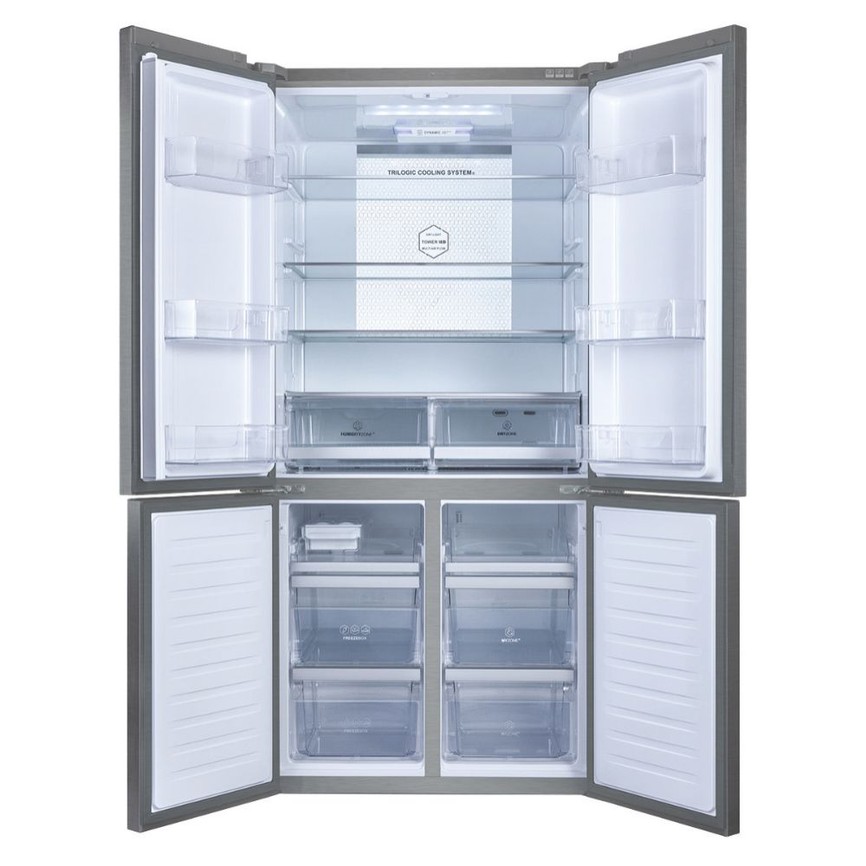 The right hand side at the bottom has two options it can be used as a fridge or a freezer so depending on your needs it can be changed so if you have a big event and need to keep a lot of fresh items you are able to have additional fridge space. You can even set the temperature some way between the two. This Switch Zone is a really clever idea.
The outside has a display which lights up only when you pass the front of the Cube so it is not always using power. This proximity mode can be turned off so the display will stay always on but we really can't see why you would want to do so.
The display shows the temperature of each of the top Fridge, the Freezer and the Switch Zone that can be either. It also allows you to change the temperature of each of these independently. If you are worried about younger members of the family fiddling with the temperatures you can lock these controls.
The version that we have for review has a stainless-steel colour outer. My concern with this was how much it would be prone to fingerprints. It's actually not been too bad but I could not say there are no marks on the front. It does clean very easily though. Talking about cleaning you don't have to ever worry about defrosting.
Haier have a really innovative system to ensure the fridge and freezer remain frost free.
According to Haier - A special 'Fresher Shield' prevents warm air from entering your freezer during the continuous automatic defrosting process, protecting your frozen foods and preventing unnecessary energy loss.
However they have done it I can definitely say it works.
I was also really impressed how quickly both the fridge and freezer reached the targeted temperatures and kept to them. I checked the actual temperature in the fridge and freezer sections and they matched exactly. Obviously this is exactly what you would expect from a refrigeration device but often its not as good as it could be with some fridges and freezers being several degrees off. Not the Haier.
Energy efficiency is good at A++, actually really good for this size of unit; things like the proximity mode obviously help.
OK so what didn't I like. Not much. The previously mentioned Ice tray seems out of place with the quality of the rest of the device and the warning beeps for leaving the doors open are just a bit too aggressive. It is difficult to load a shop into the fridge without it going off. Fortunately it isn't too loud but if you are noise sensitive it might be annoying.
Unlike many of Haier's new products this Fridge/Freezer is not connected to the internet but that doesn't make it any less a fabulous piece of tech.
I am really impressed with this Fridge/Freezer. It oozes quality, has huge and well laid out capacity and is really innovative.
COMING SOON WATCH OUR VIDEO REVIEW