In this issue we look at two very different smart home suppliers who both can add real value to your home.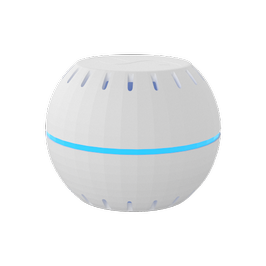 The first is Shelly. Shelly supply a plethora of home automation devices that work over Wi-Fi. Everything from controllable relays that can fit behind switches to flood sensors.
Normally wifi based sensors have an Achilles heal in their battery life but Shelly have obviously worked some kind of magic here. For example, the flood sensor is claimed to last 18 months. We have had these on long term test to see how these claims stack up and have to say we are impressed. Ours has been running for 7 months now and is still showing over 3/4s of battery remaining.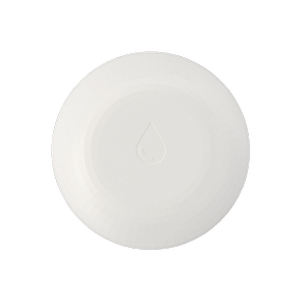 Talking about the flood sensor we love the aesthetic of this white pebble like unit. It definitely doesn't stick out like some water sensors do. We also love that it can be put in a non-alarming mode to allow rain detection for example.
The range of behind socket dimmers and relays Shelly have is amazing. For the UK market they are working on devices that do not need a neutral wire but they weren't available for our review which meant testing any lighting control was difficult as most of our switches do not have neutral. When used inline to control a lamp though they worked really well. What we really liked is that they have a range of dual relays and dimmers making really good use of space.
We think these are probably based on one of the ESP chipsets popular with Hobbyists for WiFi projects which means that there are a number of alternative firmwares out there for them including Tasmoto which seems really popular these days.
Having said that the built in firmware works really well and has links to all the services you could want including Alexa, Google, Smartthings and IFTTT.
We did find the setup in the app a little confusing around adding a device but once you do one it is easy to repeat and there is a lot of video and document guidance online.
The best thing is the cost. Compared to a lot of smart home devices these are very reasonable. The Flood Sensor can be bought in the UK for less than £25 for instance
The other thing we like is the reliability. These things just work and work and work.
We really like the Shelly ecosystem and if you are interested in a hub-less Wi-Fi based system we would highly recommend taking a look.
The next thing I want to talk about is the
SwitchBot curtain system.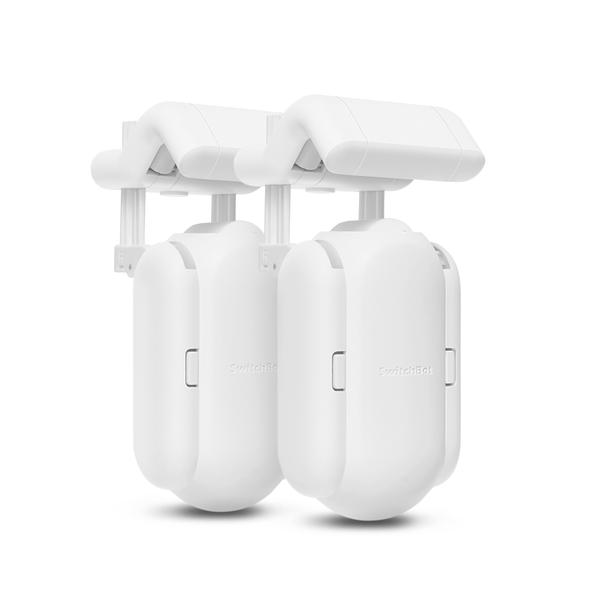 Let us say straight out of the gate we love these things but there are some caveats for use in the UK.
Now some would say automating curtains is the ultimate in laziness and they are probably right but my article on automating curtains on the cheap a few issues back is still one of our most popular articles so a lot of people must want to be that lazy! In all seriousness there are very good reasons why you may want to automate curtains. For warmer climates (or those few blistering days of a British summer) being able to close or partially close curtains when the sun is bright can help with cooling costs. Also being able to have curtains opened and closed on timers can help deter thieves for unoccupied properties.
Of course, you may just want to have the curtains open automatically to wake you (or perhaps a family member) up.
Whatever you want to do this for automating curtains has historically meant replacing your current curtain poles/tracks with special powered ones. The SwitchBot system is designed to work with your existing poles and tracks. It comes in 3 varieties for Pole, U-Rail and I-Rail. Now one caveat here is that when we originally received the review kit early this year the u-rail version only fitted very specific measurements and these wrelarger than most of the common tracks used in the UK – the very common Swish for example. We actually had to change one of our tracks to test the U-Rail system. The good news is the cheapest rail system sold in B and Q worked extremely well. The even better news is Switchbot listened to these concerns and the U-Rail system now comes with loads of accessories to fit most existing systems. There is even a handy measuring system to work out which accessory you need to use.
The pole version system worked a treat with our existing poles from day one though.
The system consists of one or two what we would call curtain robots. They clip between the first two hooks on you curtain rail and have a powered wheel that drives along the rail pulling the curtain with it
Now we did read that some people had issues with particularly heavy curtains, but we didn't seem to have any problem with quite heavy lined curtains with an additional black out curtain.
Set up was really easy with very clear instructions in the app. Again a UK caveat here we originally had to follow the alternative instructions for fitting the U-Rail even with the B and Q rails as we had to feed the robot into the groove from the ends rather than hooking in and twisting as shown in most of the promotional videos. Nevertheless, this works well. With the new accessories we could have twist fitted however but actually it wasn't an issue to fit from the end.
You can fit one or two of the curtain robots depending on your curtain configuration. If your curtains open from the middle as is common in the UK, then you will need one robot for each side. Again, this is explained well in the app instructions.
Depending on your setup you may need to install some extra parts. For example, if your pole has a join SwitchBot supply a wrap for the join to allow the robot to traverse it easier. We found all our joins were in the centre of our curtains and didn't impact movement of the robots so didn't need them
Once installed the app will guide you through calibrating the opening and closing positions. We did find on our long-term test we had to do this again after a few weeks as they had drifted slightly.
You can also choose the speed of opening or closing with a lower speed mode that is supposed to be quieter. To be honest we thought this sounded worse and the gentle whirr of the normal speed is surprisingly reassuring anyway.
Control is via the app or you can optionally connect a SwitchBot remote – we thought the design of this little button was brilliant and would recommend having one for the app-phobic in the household. If they are also button phobic there is a mode where the curtain will open or shut at a tug - we did find this slightly too sensitive as it would often open when reaching through the curtains to open or shut a window. You can always turn this off though.
You can also connect to service like Alexa, Google Nest and IFTTT but not directly from the curtain robots. For this you will need another addition a SwitchBot Hub. This basically links any SwitchBot devices you have to your home network. The one we had, the mini-hub, also doubles as a IR remote so you could for example use it to control your TV or Airconditioning (if it had a remote).
This latter is pretty cool, no pun intended, as you can use it in automations linked with the curtains and yet another optional extra the temperature/humidity gauge. Again, we love the design of this device very small and discrete. So, say the temperature in your room is going up you could first try closing the curtains partially and if that failed then turn the aircon on.
The hub works very solidly and the integrations with one exception are good. The exception initially was SmartThings where the curtain was shown open when closed and vice versa. Control in SmartThings wasalso bizarre with telling the curtains to go to 0% causes them to open then close. Amazingly Swtchbot fixed this withing a couple of days of use reporting and they now work exactly as expected. Switchbot's support seems to be second to none.
Another extra, which can help with heat management, also serves another purpose, well its main purpose, to charge the curtain robots. Each robot has a rechargeable battery designed to last several months (ours have now been in 7 months and the one without a solar panel just needed recharging). This can be recharged using any USB adapter (not supplied) or the other extra a solar panel. The design on these is superb. When you first get them they have a usb plug sticking out the back that neatly plugs into the back of the curtain robot. It looks very tidy but in our case we realised the panel would be mostly obscured by the top of the window. Fear not as it turns out that this plug is on the end of a long usb cable neatly tucked into the panel and there is Velcro supplied to attach the solar panel wherever you want. One caveat here throughout the winter and spring we have tested in the panel has never reached the level of illumination it says it needs to charge.
How do we know this latter? Well the panel has a light sensor built in and there is an experimental feature allowing you to use this to automate the opening and closing of the curtains. Again, this may not be much use in the UK as the level seemed to rarely vary from what it showed overnight. Hopefully SwitchBot may recalibrate this. One good thing with this automation is it doesn't need a hub.
All in all this system is really well thought through, reasonably priced, even if you want all the extras, and a doddle to install. We love it but have to flag the caveats for the UK market. If you have a compatible curtain rail or pole then it is a no brainer if you want automation.
Very highly recommended
and would win our TrulyFascinating award if not for the issues with the Solar Panel light sensor.