the Toshiba Encore Mini 7 - a full blown Windows 8.1 tablet in a 7 inch form factor at sub 100GBP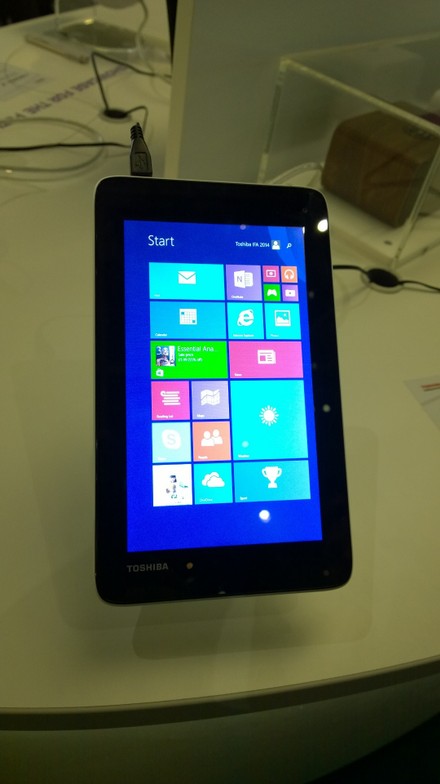 This is a really superb device which I used for a couple of weeks. Toshiba's PR agency advised us this was seen to be a companion device and probably not your sole computer but if all you use your PC for is to browse the web and read emails then this is more than adequate and far more portable than a laptop or even a netbook. It doesn't have a keyboard or even a full sized USB port to plug one in (it does have a micro-usb for charging like most phones) so you will probably have to get used to using an onscreen keyboard but this isn't at all bad. It does support bluetooth so you could use a bluetooth keyboard and mouse with it. As it also supports Intels Wireless Display technology and, although not stated in the spec, Miracast you can use these to send the screen wirelessly to a supported display. In this configuration it actually makes a pretty good desktop PC.
However it is designred to be portable and it is excellent in that mode. Being a full Windows 8 device it has none of the limitations of say the Surface RT and Surface 2 and can run any Desktop applications you like (including iTunes). It will also run some older games quite well but don't expect to be doing anything too graphics hungry. It excels when running apps from the Windows Store. These run full screen and are very easy to use with touch. The desktop is a little fiddly to use wth touch but I did find it OK to use the version of Word built in to write a letter or two. Yes I did say Word - this little 99 UK pound beast comes with a year's license to Office 365 for two devices, that alone could set you back over half the cost if bought separately. This is just great value for money.
I really like the Mini 7 it has a great balance of performance and reasonable battery life - it doesn't seem to suffer the issue that some other 7inch Windows tablets do in losing power whilst switched off. My only slight criticism is that the native screen resolution is less than the screen resolution required for Windows 8.1 so this is scaled up leading to some slight jaggedness.
All in all for the price you just can't go wrong. It would be a perfect companion for any traveller.