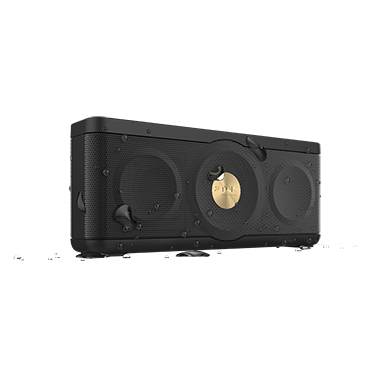 The TDK Trek Max is the top of the TDK Trek Range. Unlike the others which come with only a micro usb lead for charging this little beast comes with a seperate power supply with a more traditional round power plug.
The battery in this unit is excellent and when fully charged lasts a day really easilly. The unit comes with a USB output that can be used to charge your phone even when not plugged in - this might be the highest capacity mobile charger battery ever.
That is of course but just a bonus and wouldn't be any good if the sound or Bluetooth playback wasn't any good.
Bluetooth connectivity is in line with the rest of the Trek familty very good. It has NFC to do the pairing which is convenient. It supports the A2DP, HFP, and HSP protocols for Bluetooth. Unfortuantely not AptX which would have been nice but its probably a mute point in this size of speaker.
The sound is produced by two front facing tweeters and a rear facing bass woofer. The bass is very strong for this size of speaker which lead to an interesting review issue. Initially we really didn't like the sound of this speaker it seemed bass heavy and had minimal detail but this was purely because we were listening from above the speaker.
Move it slightly away so you listen from the front and it is another matter. A veil is lifted and you have detailed sound with good postional imagery and a very taut bass for such a small system. Spoken word for podcasts and books sound particularly natural which is good use-case for this speaker over and above its powerful rendition of almost any sort of music. Where it falls down slightly is in the high end when pushed really hard - giving a slight harshness but so do almost all devices of this size. The bass can also feel a little unfocussed when percussion is rapid - a lack of ability to respond to fast dynamics but not unpleasantly so.
No its not going to give any real high-end audio a run for its money but at its price we would be hard pressed to find a competitor on sound quality.
Excellent stuff - oh and did we mention its splashproof so can be used outside.
We really like this unit just be careful where you place it.